Summary
Eligibility

for females ages 18 years and up (full criteria)

Location

Dates

study started

Principal Investigator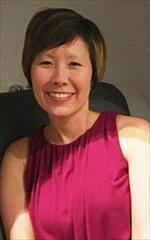 Description
Summary
This phase II trial studies the side effects of sunitinib malate and how well it works in treating patients with ovarian cancer that is persistent or has come back. Sunitinib malate may stop the growth of tumor cells by blocking some of the enzymes needed for cell growth and by blocking blood flow to the tumor.
Official Title
A Phase II Evaluation of SU11248 (Sunitinib Malate) (NSC #736511) in the Treatment of Persistent or Recurrent Clear Cell Ovarian Carcinoma
Details
PRIMARY OBJECTIVES:
To evaluate the anti-tumor activity of SU11248 (sunitinib malate), a highly potent, selective tyrosine kinases inhibitor, in patients with persistent or recurrent clear cell ovarian carcinoma.
II. To examine the nature and degree of toxicity in this cohort of patients treated with this regimen.
SECONDARY OBJECTIVES:
To characterize the distribution of progression-free survival and overall survival for patients treated with SU11248 (sunitinib malate).
TERTIARY OBJECTIVES:
To determine the pre-cycle 1, pre-cycle 4 and off-treatment levels of pro-angiogenic proteins (e.g., angiogenin, soluble vascular cell adhesion molecule [VCAM]-I, basic fibroblast growth factor [bFGF], platelet-derived growth factor [PDGF], placental growth factor [PlGF], vascular endothelial growth factor [VEGF], and hypoxia-inducible factor [HIF]1alpha).
II. To identify changes in serum and plasma angiogenesis markers at baseline (pre-cycle 1), during treatment (cycle 4), and at progression in association with primary and secondary clinical endpoints associated with clinical response or progression-free survival.
OUTLINE:
Patients receive sunitinib malate orally (PO) once daily (QD) for 4 weeks. Courses repeat every 6 weeks in the absence of disease progression or unacceptable toxicity.
After completion of study treatment, patients are followed up every 3 months for 2 years and then every 6 months for 3 years.
Keywords
Ovarian Clear Cell Adenocarcinoma Recurrent Ovarian Carcinoma Carcinoma Adenocarcinoma Ovarian Neoplasms Neoplasms, Glandular and Epithelial Adenocarcinoma, Clear Cell Sunitinib Laboratory Biomarker Analysis Sunitinib Malate
Eligibility
You can join if…
Open to females ages 18 years and up
Patients must have recurrent or persistent clear cell ovarian cancer; primary tumors must be at least 50% clear cell histomorphology in order to be eligible or have a histologically documented recurrence with at least 50% clear cell histomorphology; in addition, the tumors should be negative for expression of Wilms tumor (WT)-1 antigen and estrogen receptor (ER) antigen by immunohistochemistry; appropriate tissue sections must be available for histologic evaluation for central pathology review by Gynecologic Oncology Group (GOG); immunohistochemical stained slides for ER and WT-1 antigen must be available for review by GOG
If the primary tumor had at least 50% clear cell histomorphology, a biopsy of the recurrent or persistent tumor is not required; however, immunohistochemical studies of the primary tumor for ER and WT-1 antigens should be performed and the slides submitted to the GOG for review; the percentage of clear cell histomorphology must be documented in the pathology report or in an addendum to the original report; if slides of the primary tumor are not available for review due to disposal of slides by the histology laboratory (typically 10 years after diagnosis), biopsy of recurrent or persistent disease is required
If the primary tumor had less than 50% clear cell histomorphology (or if slides of the primary tumor are not available for review), a biopsy of the recurrent or persistent tumor is required to confirm at least 50% clear cell histomorphology and lack of immunoreactivity for ER and WT-1 antigens by immunohistochemistry;the percentage of involvement must be documented in the pathology report or in an addendum to the original report
All patients must have measurable disease as defined by Response Evaluation Criteria In Solid Tumors (RECIST) 1.1; measurable disease is defined as at least one lesion that can be accurately measured in at least one dimension (longest diameter to be recorded); each lesion must be >= 10 mm when measured by computed tomography (CT),magnetic resonance imaging (MRI) or caliper measurement by clinical exam; or >= 20 mm when measured by chest x-ray; lymph nodes must be >= 15 mm in short axis when measured by CT or MRI
Patients must have at least one "target lesion" to be used to assess response on this protocol as defined by RECIST 1.1; tumors within a previously irradiated field will be designated as "non-target" lesions unless progression is documented or a biopsy is obtained to confirm persistence at least 90 days following completion of radiation therapy; thus, a confirmed biopsy in an irradiated area at a date longer than 90 days post-completion of radiation can be considered a target lesion to assess progression and response
Patients must have had one prior platinum-based chemotherapeutic regimen for management of primary disease containing carboplatin, cisplatin, or another organoplatinum compound; this initial treatment may have included intraperitoneal therapy, consolidation, or extended therapy administered after surgical or non-surgical assessment
Patients are allowed to receive, but are not required to receive, one additional cytotoxic regimen for management of recurrent or persistent disease according to the following definition:
Cytotoxic regimens include any agent that targets the genetic and/or mitotic apparatus of dividing cells, resulting in dose-limiting toxicity to the bone marrow and/or gastrointestinal mucosa
Patients who have received only one prior cytotoxic regimen (platinum-based regimen for management of primary disease) must have a platinum-free interval of less than 12 months, or have progressed during platinum-based therapy, or have persistent disease after a platinum-based therapy
Patients may have received prior biologic therapy, but must not have had any prior therapy with agents which inhibit VEGF, vascular endothelial growth factor receptor(VEGFR) or PDGF such as, bevacizumab, sorafenib, sunitinib, pazopanib, brivanib,aflibercept cediranib, BIBF 1120, imatinib, dasatinib
Any other prior therapy directed at the malignant tumor, including immunologic agents(e.g. tamoxifen) must be discontinued at least three weeks prior to registration
Patients must not be eligible for a higher priority (e.g.; Phase III), GOG protocol for the same population if one exists
Patients must be recovered from effects of recent surgery (28 days must elapse between surgery and the start of treatment with sunitinib malate)
Patents must have >= 4 weeks since prior chemotherapy or radiation (>= 6 weeks for nitrosoureas or mitomycin C)
Sunitinib metabolizes via liver enzyme, specifically the cytochrome P450 family 3,subfamily A, polypeptide 4 (CYP3A4) enzyme; therefore, potential drug interaction with the CYP3A4 enzyme can occur; eligible patients who are on the CYP3A4 inducer or inhibitor enzyme should stop 2 weeks prior to study entry if all other eligibility has been confirmed; the principal investigator will review the case and make all effort to switch such agent to other medication
Patients should be free of active infection (with the exception of uncomplicated urinary tract infections [UTI]) requiring antibiotics
Patients who have received one prior regimen must have a GOG performance status of 0,1 or 2; patients who have received two prior regimens must have GOG performance status of 0 or 1
Absolute neutrophil count (ANC) >= 1,500/mcl
Platelets greater than or equal 100,000/mcl
Creatinine less than or equal to 1.5 times the upper limit of normal (ULN)
Bilirubin less than or equal to 1.5 ULN
Aspartate aminotransferase (AST) and alanine aminotransferase (ALT) less than or equal to 2.5 times the ULN, unless subjects have liver metastasis, in which case both AST and ALT must be less than or equal to 5 times the ULN
Patients who have met the pre-entry requirements
Patients must have signed an approved informed consent and authorization permitting release of personal health information
You CAN'T join if...
Primary peritoneal or fallopian tube primaries are not eligible
Patients with serious non-healing wound, ulcer, or bone fracture
Patients with active bleeding or pathologic conditions that carry high risk of bleeding, such as known bleeding disorder, coagulopathy, or tumor involving major vessels
Patients with history or evidence upon physical examination of central nervous system(CNS) disease, including primary brain tumor, seizures not controlled with standard medical therapy, any brain metastases, or history of cerebrovascular accident (CVA,stroke), transient ischemic attack (TIA) or subarachnoid hemorrhage within 6months of the first date of treatment on this study
Patients with clinically significant cardiovascular disease; this includes:
Poorly controlled hypertension (systolic blood pressure of >= 140 mm Hg or diastolic blood pressure of >= 90 mm Hg) are ineligible
Myocardial infarction or unstable angina within 6 months prior to registration
New York Heart Association (NYHA) grade II or greater congestive heart failure
Cardiac arrhythmia requiring medication
Grade II or greater peripheral vascular disease based on National Cancer Institute Common Terminology Criteria (NCI CTC); e.g. ischemic rest pain, minor tissue loss, and ulceration or gangrene
Patients with QTc prolongation (> 500 msec) are excluded
Patients who require use of therapeutic doses of Coumadin-derivative anticoagulants such as warfarin are ineligible, although doses of up to 2 mg daily are permitted for prophylaxis of thrombosis; low molecular weight heparin is permitted provided patient's prothrombin time (PT) international normalized ratio (INR) is =< 1.5
Patients with clinically significant peripheral artery disease, e.g., those with claudication, within 6 months
Patients with a pre-existing thyroid abnormality who are unable to maintain thyroid function in the normal range with medication are ineligible; patients with a history of hypothyroidism are eligible provided they are currently euthyroid
Patients whose circumstances do not permit completion of the study or the required follow-up
Patients who are pregnant or nursing; to date, no fetal studies in animals or humans have been performed; the possibility of harm to a fetus is likely; this drug specifically inhibits VEGF, which is responsible for formation of new blood vessels during development, and antibodies can cross the placenta; therefore, it should not be administered to pregnant women; subjects will be apprised of the large potential risk to a developing fetus; it is not known whether the drug is excreted in human milk;because many drugs are excreted in human milk, this drug should not be administered to nursing women; women of childbearing potential must agree to use contraceptive measures during study therapy and for at least 3 months after completion of therapy; a negative serum pregnancy test within 72 hours of starting drug is required
Patients who have a major surgical procedure, or significant traumatic injury within 28 days prior to the first date of treatment on this study, or anticipation of need for major surgical procedure during the course of the study; patients with placement of vascular access device or core biopsy within 7 days prior to the first date of treatment on this study
Patients with other invasive malignancies, with the exception of non-melanoma skin cancer, who had (or have) any evidence of other cancer present within the last 5 years or whose previous cancer treatment contraindicates this protocol therapy
Patients who have received prior therapy with this drug
Locations
UCSF Medical Center-Mount Zion




San Francisco

California

94115

United States

Center of Hope at Renown Medical Center




Reno

Nevada

89502

United States

Providence Saint Joseph Medical Center/Disney Family Cancer Center




Burbank

California

91505

United States

Los Angeles County-USC Medical Center




Los Angeles

California

90033

United States

USC / Norris Comprehensive Cancer Center




Los Angeles

California

90033

United States
Details
Status

in progress, not accepting new patients

Start Date

Sponsor

National Cancer Institute (NCI)

ID

Phase

Phase 2

Lead Scientist

Study Type

Interventional

Last Updated

June 2017
Frequently Asked Questions