Summary
Eligibility

for people ages 18 years and up (full criteria)

Location

Dates

study started

estimated completion

Principal Investigator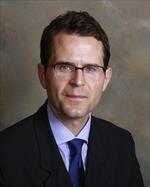 Description
Summary
This is a single-arm, open-label, multicenter study in approximately 52 adults with primary (de novo) GB that has recurred or progressed (first or second recurrence, including this recurrence) after treatment(s) including surgery and radiotherapy with or without chemotherapy and following discontinuation of any previous standard or investigational lines of therapy.
Official Title
An Open-Label Non-Randomized, Multi-Center Phase-2 Study of Convection-Enhanced Delivery (CED) of MDNA55 in Adults With Recurrent or Progressive Glioblastoma
Details
The study drug, MDNA55, is a fusion protein comprising a genetically engineered Interleukin-4 (IL-4) linked to a modified version of the Pseudomonas aeruginosa exotoxin A (PE). MDNA55 binds to the IL-4 receptor (IL4R), over-expressed by cancer cells and non-malignant immunosuppressive cells of the tumor microenvironment (TME), and delivers a potent cell-killing agent, PE.
The study will be conducted at up to 10 clinical sites following institutional review board approval and completed informed consent.
Subjects that meet the study eligibility criteria will undergo surgery associated with study drug administration. MDNA55 will be administered locally by convection-enhanced delivery (CED).
Post-treatment follow-up assessment of safety and efficacy will be performed monthly for the first 6 months and bimonthly thereafter for approximately 1 year after study drug administrations. Subjects will continued to be followed for survival and post-study treatment(s) of GB after study completion or withdrawal.
Keywords
GlioblastomaGrade IV AstrocytomaGlioblastoma MultiformeGrade IV GliomaHigh grade gliomamalignant gliomarecurrent glioblastomarecurrent GBMrecurrent GBglioblastoma (GB)glioblastoma multiforme (GBM)progressive glioblastomaBrain tumorBrain cancerimmunotherapytargetedIL4RGliomaAstrocytomaInterleukin-4MDNA55
Eligibility
You can join if…
Open to people ages 18 years and up
Subjects must be ≥ 18 years old and have a life expectancy ≥ 12 weeks
Histologically proven, primary (de novo) GB that has recurred or progressed (first or second recurrence, including this recurrence)
Confirmation that archived tissue is available from first diagnosis of GB for biomarker analysis
Recurrent tumor must be supratentorial, contrast-enhancing GB no smaller than 1 cm x 1 cm (largest perpendicular dimensions) and no larger than 4 cm maximum in a single direction based on MRI taken within 14 days prior to catheter placement
Karnofsky Performance Score (KPS) ≥ 70
Subjects must be able and willing to undergo multiple brain MRI examinations
Subjects must be able and willing to comply with all study procedures
Any related toxicities following discontinuation of prior GB therapies must have resolved to CTCAE Grade 1 or lower prior to inclusion in this study
You CAN'T join if...
Prior treatment with cytotoxic chemotherapy
Temozolomide (standard induction and / or maintenance dosing) within the past 4 weeks prior to planned infusion
"Metronomic" Temozolomide (low-dose, continuous administration) within the past 7 days prior to planned infusion
Nitrosoureas within the past 6 weeks prior to planned infusion
Treatment with any other cytotoxic agent within the past 4 weeks prior to planned infusion
Prior investigational treatment within the past 4 weeks or prior immunotherapy or antibody therapy within the past 4 weeks prior to planned infusion
Prior treatment with bevacizumab (Avastin) or other vascular-endothelial growth factor (VEGF) inhibitors or VEGF-receptor signaling inhibitors within the past 4 weeks prior to planned infusion
Prior therapy that included interstitial brachytherapy or Gliadel® Wafers (carmustine implants) within the past 12 weeks prior to planned infusion
Prior surgery (including stereotactic radiosurgery and biopsy procedures) within the past 4 weeks prior to planned infusion
Ongoing Optune© therapy within 5 days of planned infusion
Secondary GB (i.e., GB that progressed from low-grade diffuse astrocytoma or AA)
Known mutation in either the isocitrate dehydrogenase 1 (IDH1) or the IDH2 gene.
Tumor in the brainstem (not including fluid-attenuated inversion recovery [FLAIR] changes), an infratentorial tumor, diagnosis of gliomatosis cerebri (highly infiltrative T2 hyperintense tumor with ill-defined margins encompassing at least three lobes of the brain.
. Tumor with a mass effect (e.g. 1-2 cm midline shift)
. Subjects with tumors for which the preponderance of tissue is not of the type in which convection would be possible (e.g. preponderance of cystic component)
. Tumor with geometric features that make them difficult to adequately cover the tumor volume with infusate by using CED catheters
. Clinical symptoms that are thought by the Investigator to be caused by uncontrolled increased intracranial pressure, hemorrhage, or edema of the brain
. Any condition that precludes the administration of anesthesia
. Known to be human immunodeficiency virus positive
. Concurrent or a history of any significant medical illnesses that in the Investigator's opinion cannot be adequately controlled with appropriate therapy or would compromise the subject's ability to tolerate the study drug therapy and/or put the subject at additional risk or interfere with the interpretation of the results of this trial
. Known history of allergy to gadolinium contrast agents
. Presence of another type of malignancy requiring treatment within < 3 years prior to the screening visit, except for adequately treated carcinoma in-situ of the cervix, prostate cancer not actively treated, and basal or squamous cell carcinoma of the skin
Locations
University of California San Francisco

accepting new patients




San Francisco

California

94143

United States

John Wayne Cancer Institute at Providence Saint John's Health Center

accepting new patients




Santa Monica

California

90404

United States
Details
Status

accepting new patients

Start Date

Completion Date

(estimated)

Sponsor

Medicenna Therapeutics, Inc.

Links

ID

Phase

Phase 2

Study Type

Interventional

Last Updated
Frequently Asked Questions
Please contact me about this study
We will not share your information with anyone other than the team in charge of this study. Submitting your contact information does not obligate you to participate in research.
Thank you!
The study team should get back to you in a few business days.
You will also receive an email with next steps. Check your junk/spam folder if needed.
If you do not hear from the study team, please call 888-689-8273 and tell them you're interested in study number NCT02858895.