Pembrolizumab and Tamoxifen With or Without Vorinostat for the Treatment of Estrogen Receptor Positive Breast Cancer
a study on Breast Cancer
Summary
Eligibility

for people ages 18 years and up (full criteria)

Location

Dates

study started

estimated completion

Principal Investigator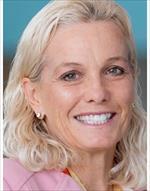 Description
Summary
This phase II trial studies how well pembrolizumab and tamoxifen with or without vorinostat work for the treatment of estrogen receptor positive breast cancer. Immunotherapy with monoclonal antibodies, such as pembrolizumab, may help the body's immune system attack the cancer, and may interfere with the ability of tumor cells to grow and spread. Estrogen can cause the growth of breast cancer cells. Hormone therapy with tamoxifen may may fight breast cancer by blocking the use of estrogen by the tumor cells. Vorinostat may stop the growth of tumor cells by blocking some of the enzymes needed for cell growth. This trial is being done to find a drug combination to better control estrogen receptor positive breast cancer and reduce the number of pills taken.
Official Title
Epigenetic Priming for Immune Therapy in ER-Positive Breast Cancer in Biomarker Select Population
Details
PRIMARY OBJECTIVE:
To define the role of epigenetic immune priming in a biomarker enriched estrogen receptor (ER)+ breast cancer population on the basis of overall response rate.
SECONDARY OBJECTIVES:
To assess duration of response (DOR) 24-week landmark progression-free survival (PFS:24).
II. Median PFS and overall survival (OS). III. Tumor responses will also be calculated by Immune Related Response-Criteria (irRC).
EXPLORATORY OBJECTIVES:
Evaluation of biomarker target threshold on response rate (retrospective cut off of 20% versus [vs] 10%).
II. To assess the ratio of effector T cells: regulatory T cells in blood and tumor biopsies pre- and post-therapy.
III. To evaluate inflammatory T cell signature changes in blood and tumor biopsies pre- and post-therapy.
IV. To evaluate changes in number of myeloid-derived suppressor cells (MDSCs) in peripheral blood and tumor biopsies pre- and posttherapy.
To evaluate changes in histone acetylation in peripheral blood cells and tumor biopsies pre- and post-therapy.
VI. Initial comparison to vorinostat-induced PD-1 in lymphocytes, PD-L1 modulation.
VII. Nanostring and 10 x sequencing and single cell immune phenotyping (on stored tissue for successful arms only).
VIII. Impact of histone deacetylase (HDAC) inhibition of response to pembrolizumab vs. pembrolizumab in biomarker enriched population.
OUTLINE: Patients are randomized to 1 of 2 arms.
ARM A: Patients receive pembrolizumab intravenously (IV) over 30 minutes on day 1, vorinostat orally (PO) once daily (QD) for 4 days weekly, and tamoxifen PO QD on days 1-21. Cycles repeat every 21 days in the absence of disease progression of unacceptable toxicity.
ARM B: Patients receive pembrolizumab IV over 30 minutes on day 1 and tamoxifen PO QD on days 1-21. Cycles repeat every 21 days in the absence of disease progression of unacceptable toxicity.
After completion of study treatment, patients are followed up for 30 days and then every 12 weeks thereafter.
Keywords
Anatomic Stage IV Breast Cancer AJCC v8, Prognostic Stage IV Breast Cancer AJCC v8, Breast Neoplasms, Tamoxifen, Pembrolizumab, Vorinostat, pembrolizumab, vorinostat, tamoxifen, pembrolizumab, tamoxifen
Eligibility
You can join if…
Open to people ages 18 years and up
Pre and postmenopausal women or men with stage IV ER+ breast cancer histological or cytological confirmation
> 10% expression of PD-1/Cytotoxic T-lymphocyte-associated protein 4 (CTLA-4) dual staining in Cluster of differentiation 8 (CD8) cells in tumor or blood or >5% expression of PD-1/CTLA-4 dual staining in CD4 in blood (only).
Eastern Cooperative Oncology Group (ECOG) performance status of =< 1
Understand and voluntarily sign an informed consent prior to any study-related assessments or procedures are conducted and are able to adhere to the study visit schedule and other protocol requirements
Consent to paired tumor biopsy
Measurable tumor by Response Evaluation Criteria in Solid Tumors (RECIST) criteria
Per Good Clinical Practice, any toxicity related to prior therapies that, in the opinion of the investigator, would potentially be worsened with anti-PD1 therapy should be resolved to less than grade 1
Absolute neutrophil count (ANC) >= 1.5 X 109/L
Hemoglobin (Hgb) >= 9 g/dL (may transfuse if clinically indicated)
Platelets (plt) >= 100 x 109/L
Potassium within normal range, or correctable with supplements
Aspartate aminotransferase (AST) and alanine aminotransferase (ALT) =< 2.5 x upper limit normal (ULN) or =< 5.0 x ULN if liver tumor is present
Serum total bilirubin =< 1.5 x ULN
Serum creatinine =< 1.5 x ULN, or 24-hr clearance >= 60 ml/min
Females of childbearing potential (defined as sexually mature women who):

Has not undergone a hysterectomy (the surgical removal of the uterus) or bilateral oophorectomy (the surgical removal of both ovaries) or,
Has not been naturally postmenopausal for at least 24 consecutive months (i.e., has had menses at any time during the preceding 24 consecutive months) must have

Negative serum pregnancy test within 14 days before starting study treatment in females of childbearing potential (FCBP) and willingness to adhere to acceptable forms or birth control (a physician-approved contraceptive method (oral, injectable, or implantable hormonal contraceptive; tubal ligation; intra-uterine device; barrier contraceptive with spermicide; or vasectomized partner)

All female and male participants must agree to use approved contraception during the treatment period and for at least 18 weeks after the last dose of study treatment and refrain from donating sperm during this period
You CAN'T join if...
Prior treatment with pembrolizumab or other PD-(L)1
Any significant medical condition, laboratory abnormalities, which places the subject at unacceptable risk if he/she were to participate in the study
Has a history of (non-infectious) pneumonitis/interstitial lung disease that required steroids or current pneumonitis/ interstitial lung disease
Has known active hepatitis B (e.g., hepatitis B surface antigen (HBsAg) reactive) or hepatitis C (e.g., hepatitis C virus (HCV) ribonucleic acid (RNA) [qualitative] is detected)
Has a history of hepatitis B virus (HBV)
Has a history or current evidence of any condition, therapy, or laboratory abnormality that might confound the results of the study, interfere with the subject's participation for the full duration of the study, or is not in the best interest of the subject to participate, in the opinion of the treating investigator
Symptomatic central nervous system metastases. Subjects with brain metastases that have been previously treated and are stable for 6 weeks are allowed
Persistent diarrhea or malabsorption >= National Cancer Institute (NCI) Common Terminology Criteria for Adverse Events (CTCAE) grade 2, despite medical management
Unstable angina, significant cardiac arrhythmia, or New York Heart Association (NYHA) class 3 or 4 congestive heart failure
Prior systemic cancer-directed treatments or investigational modalities =< 5 half-lives or 4 weeks, whichever is shorter, prior to starting study drug or who have not recovered from side effects of such therapy (except alopecia)
Active autoimmune disease except for vitiligo or hypothyroidism
Active and ongoing steroid use, except for non-systemically absorbed treatments (such as inhaled or topical steroid therapy for asthma, chronic obstructive pulmonary disease (COPD), allergic rhinitis)
Major surgery =< 2 weeks prior to starting a study drug or who have not recovered from side effects of such therapy
Pregnant or breastfeeding
Known human immunodeficiency virus (HIV) infection
Known history of tuberculosis
Known allergic reaction or intolerability to tamoxifen
Patients with prior history of deep vein thrombosis (DVT)s must be on therapeutic or preventive anticoagulation
Location
UCSF

accepting new patients




San Francisco

California

94143

United States
Lead Scientist
at UCSF
Pamela Munster, MD
Professor, Medicine, School of Medicine. Authored (or co-authored) 142 research publications
Details
Status

accepting new patients

Start Date

Completion Date

(estimated)

Sponsor

University of California, San Francisco

ID

Phase

Phase 2 Breast Cancer Research Study

Study Type

Interventional

Participants

Expecting 65 study participants

Last Updated
Frequently Asked Questions
Please contact me about this study
We will not share your information with anyone other than the team in charge of this study. Submitting your contact information does not obligate you to participate in research.
Thank you!
The study team should get back to you in a few business days.
You will also receive an email with next steps. Check your junk/spam folder if needed.
If you do not hear from the study team, please call 888-689-8273 and tell them you're interested in study number NCT04190056.